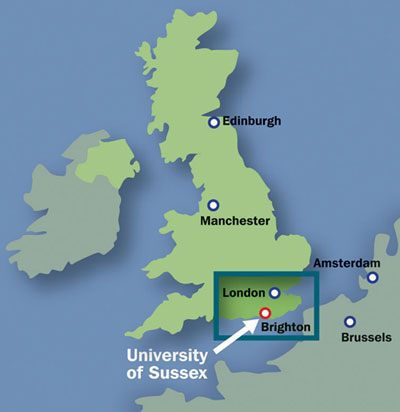 Zdroj: sussex.ac.uk
Before leaving for Brighton, I was looking for some useful travel guide, that could make my planning easier. No results. That's why I decided to write this post. I want to answer the most frequent questions, you are definitely asking before the trip to lovely Brighton.
Před odjezdem do Brightonu jsem dlouho pátrala po užitečném průvodci, který by mi usnadnil plánování. Bez výsledku. Proto jsem se rozhodla napsat tenhle článek. Doufám, že odpoví na všechny zásadní otázky, které si před výletem do Brightonu jistě všichni kladete.
Why to visit Brighton?/ Proč navštívit Brighton?
This is easy to answer. Brighton is the loveliest city I have ever visited and I can guarantee you, that it will completely amaze you. It has a really specific atmosphere - I felt really safe there and everything seemed to be magic. Cute little shops, narrow streets, breath-taking seashore, luxury houses, fairy lights, really interesting architecture.. I could go on and on.. I would sum it up by something that came to my mind after spending a few days here - Rarely I can imagine myself living in some foreign city. But here, I would not hesitate.
Tohle je jednoduchá otázka. Brighton je asi nejkrásnější město, které jsem navštívila, a můžu Vám zaručit, že Vás taky ohromí. Má opravdu specifickou atmosféru - cítila jsem se zde naproto bezpečně a všechno se zdálo být magické. Roztomilé malé obchůdky, úzké uličky, dechberoucí pobřeží, luxusní domy, drobná světýlka, opravdu zajímavá architektura.. Mohla bych pokračovat dál a dál. Shrnula bych to asi tím, co mě napadlo po pár dnech tam strávených - Zřídkakdy si dovedu představit, že bych žila v neznámém městě, ale tady bych neváhala.
How to get there?/ Jak se sem dostat?
The best way to get to Brighton is probably by train, as the train station is located in the centre of the city. I travelled from Gatwick airport and the journey took me about half an hour, which is really great. I booked the ticket on thetrainline.com and it costed only 5 pounds. Moreover you can see the typical british villages full of brick houses from the train window.
Nejsnazší cestou je pravděpodobně vlak, protože vlakové nádraží se nachází přímo v centru města. Já cestovala z letiště Gatwicku a cesta travala pouze půl hodiny, což je skvělé. Předem jsem si zabookovala lístek na webových stránkách thetrainline.com a stál mě pouze 5 liber. Další výhodou je bezpochyby nejen pohodlí, ale i to, že z okna vlaku uvidíte ony typické britské vesnice plné domků z cihel.
Brighton train station
Where to accommodate?/ Kde se ubytovat?
Brighton is full of hotels and hostels offering you their accommodation. I can 100% recommend you
Kempfield House
. It is located right in the street with one of the most spectacular views in Brighton - at the Brighton Wheel. It was clean, comfortable, had a good wifi connection, and in addition the staff was really super nice! The only thing that was not absolutely perfect was the size of the room, as it seemed to me quite small, but in the end, who cares? I assume you go to Brighton for walking in the city, and not in your hotel room.
Brighton je bezpochyby plný hotelů a hostelů, které Vám nabízejí své ubytování. Za sebe ale můžu 100% doporučit Kempfield House. Nachází se v ulici, která Vám poskytuje jeden z nejúžasnějších pohledů v Brightonu - a to přímo na celé Brighton Wheel. Hostel byl čistý, pokoje pohodlné, s dobrým wifi připojením, navíc personál byl neuvěřitelně milý! Jediná věc, která se nezdála úplně perfektní, byla velikost pokoje, protože se mi zdál relativně malý, ale nakonec, koho to zajímá? Všichni přece jedete pochodovat po Brightonu a ne po hotelovém pokoji.
How many days?/ Kolik dní si vyhradit na návštěvu?
If you really want to discover all the beauties of Brighton and neighbourhood, you should plan your trip for three or four days. I was there only for two days and do not think I managed to see everything I could. But if you are okay with just visiting the city and you do not plan to do the trips outside Brighton, two and a half day would be enough.
Pokud chcete objevit všechny krásy Brightonu a okolí, měli byste si určitě naplánovat svůj výlet na tři nebo čtyři dny. Já se zdržela pouze dvě dny a nemyslím si, že jsem zvládla vidět vše, co jsem mohla. Ale pokud chcete navštívit jen město a neplánujete vyjíždět na výlety po okolí, dva a půl dne by mělo stačit.
What to see?/ Co navštívit?
The most important question. There are a lot of things, that you should visit, see and experience. For now I decided to make you a short list:
Brighton Pier
Royal Pavillon
The Lanes
The North Laine
Walk along the seashore
Colourful bathing boxes
Hove - Palmeira square - I was completely impressed by the architecture in Hove!!!
Nejdůležitější otázka. Je opravdu mnoho věcí, které byste tu měli navštívit, vidět a zažít. Rozhodla jsem se napsat prozatím pouze krátký seznam.
Brighton Pier
Royal Pavillon
The Lanes
The North Laine
Procházka po pobřeží
Barevné plážové boxy
Hove - Palmeira square - architekturou Hoveu jsem byla naprosto unešena!!!
Brighton Pier
Brighton Pier
Royal Pavillon - Ice rink
Royal Pavillon
Bathing boxes
Bathing boxes
What to eat?/ Co jíst?
Prepare yourself, that the prices are not student-friendly, or generally friendly at all. Brighton is not a low-cost city, the prices are quite high. But if you try, you will surely find something not that expensive. I ordered fish&chips (costed 8 pounds) in the first kiosk on the Brighton Pier and must admit, that the meal was not as tasty as I expected. Therefore I recommend you to enter the Pier and get fish&chips in the middle of Brighton Pier - there is a special restaurant famous for delicious fish&chips. I did not know that.
But you definitely should not miss cupcake at
Catwalk Cakes
! This cakeshop is located in Bond street in the right centre of Brighton and is really popular for their delicious cupcakes and amazing cakes. The whole room is really really pinky pink, but I am forgiving them because the cupcakes are extremely cute. I ordered cookie monster (their speciality) and hot chocolate (with cream and minimallows - yes, I probably have a diabetes now) and it costed only 5,50 pounds for both!
Připravte se, že ceny rozhodně nejsou pro studenty příznivé, a vůbec celkově příznivé. Brighton není žádné levné město a ceny jsou poměrně vysoké. Ale pokud se budete snažit, rozhodně najdete něco ne tak drahého. Já si objednala známé fish&chips (za 8 liber) v prvním stánku na Brighton Pier a musím uznat, že jídlo nebylo tak chutné, jak jsem čekala. Proto Vám poradím, abyste vešli do Brighton Pier a dali si fish &chips až uprostřed Pieru - je tam speciální restaurace, která je pro své delikátní fish&chips proslavená. Já to nevěděla.
Rozhodně ale nesmíte minout cupcaky v Catwalk Cakes! Tahle cukrárna se nachází v Bond street přímo v centru Brightonu a je opravdu populární pro své výborné cupcaky a úchvatné dorty. Celá místnost je vážně růžově růžová, ale já jim to odpouštím, protože jejich dortíky jsou neskutečně roztomilé. Já si objednala cookie monster (jejich specialita - kokos, čokoláda, vanilka) a horkou čokoládu (se šlehačkou a marshmallows - ano, pravděpodobně mám od té doby cukrovku) a stálo mě to všechno jen 5,50 liber!
What to drink?/ Co pít?
I know it is not only Brighton drink, but I first tasted that in Brighton, so I will mention that. Peanut butter drink! It is like hot chocolate but with peanut butter instead of chocolate. I have not tasted something as delicious as this! Bought it in Waitrose and could not find that in any other shop.
Vím, že to není brightonský nápoj, ale já ho v Brightonu poprvé ochutnala, tak ho sem přeci jen zahrnu. Drink z burákového másla! Aneb Peanut butter drink. Něco jako horká čokoláda akorát s burákovým máslem místo čokolády. Nikdy jsem nechutnala něco tak skvělého jako tohle! Koupila jsem to ve Waitrose a nemohla to sehnat v žádném jiném obchodě. Nějaké tipy, kde to sehnat u nás??
Zdroj: vinspireuk.com
And what are your favourite Brighton places?
A jaká jsou Vaše oblíbená místa v Brightonu?